Welcome to the Media Center for: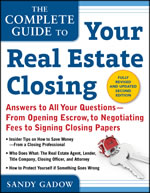 The Complete Guide To Your Real Estate Closing
By: Sandy Gadow
Published: August, 2014, 2nd Edition
Thank you for your purchase.
Answers to All Your Questions—From opening Escrow, To Negotiating Fees, to Signing Closing Papers
Here you can download current versions of the forms or other materials that come with the book.
We'll also post updates whenever there's an important change to the law affecting the book—as well as other related materials, such as current news and other articles.
iPad, iPhone, and eReader Users:
These files require a zip utility. Please download to a desktop or laptop FIRST. Then transfer unzipped files to your device.