New Edition Now Available
The Complete Guide to Your Real Estate Closing, Second Edition: Answers to All Your Questions—From Opening Escrow, To Negotiating Fees, To Signing Closing Papers
The housing market is back! This new edition brings homebuyers and sellers up to date on everything they need to know for a smooth transaction.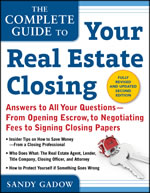 Armed with The Complete Guide to Your Real Estate Closing, buyers and sellers will glide through a process that can trip up even the most experienced professionals. The book explains basic concepts in easy-to-understand terms, showing concrete ways to avoid common pitfalls. It also provides tips and ideas for seasoned buyers and sellers.
Gives readers everything they need to do their homework before jumping into a deal—all in a single, easy-to-understand volume
Approximately 7,700 title companies, 53,000 mortgage companies, and 466,000 real estate agents operate in the U.S; this book is the ideal training manual for new employees
Includes brand-new material on short sales, electronic closing transactions (instant money transfers, lending documents, digital signatures, etc.), government programs, qualification guidelines, the new HUD-1 and Truth in Lending Statements, and much more
Since its first publication, Gadow has been featured in The Washington Post, The Wall Street Journal Online, REIClub.com, RealtyTimes.com, and other media
This revised and updated second edition is currently available in Kindle eBook format and Nook eBook format. You can still read this valuable resource even if you don't own a Kindle, iPad or other device. Amazon offers several Kindle free reading apps that allow you to download and read Kindle eBooks on your computer, tablet, or cell phone. Barnes & Noble aslo has Nook free reading apps.