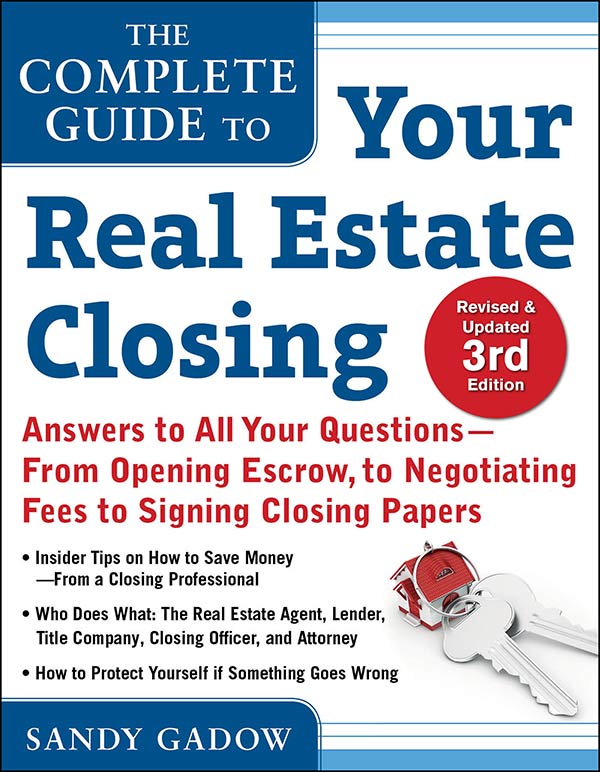 Sandy Gadow is the author of "The Complete Guide to Your Real Estate Closing," an essential tool in understanding the entire escrow and closing process. This highly regarded guidebook leads readers step-by-step through the transaction process from opening escrow, to obtaining financing, to holding title to closing the deal. You will learn what to expect on closing day, how to protect your rights, and what title insurance is and why it's important, the role of a settlement agent, and other helpful information to clear up your confusion, and save you money in the process. Use it as your one-stop resource for understanding each detail, answering each question, and preventing minor disputes from becoming major roadblocks.
"The Complete Guide to Your Real Estate Closing" has sold over 550,000 copies and fills a niche no other book fills, giving you a better understanding of how real estate transactions work and of what your closing officer or agent should be doing for you. This book has a proven track record for saving time and money for real estate purchasers. See what the reviewers have to say about The Complete Guide to Your Real Estate Closing.
"The Complete Guide to Your Real Estate Closing" covers an amazing amount of ground. For a detailed look at what's inside, see Table of Contents. Some of the highlights are listed below.
Closings
Just what is "closing" or "escrow." What is "title insurance," "a preliminary title report," a "title commitment" and a "survey." Your questions will be answered in easy-to understand, simple language. Information which can help save you thousands of dollars. A closing checklist walks you through the closing process ahead of time. You'll be confident and fully prepared.
Loan Tips
Determine which loan is best for you. Learn how to clean up your credit rating and how to avoid paying costly points and loan fees. Learn which fees are negotiable and which fees must be paid.
Holding Title
Learn how to best hold title under different circumstances. The manner in which you hold title can have significant tax consequences.
Statements & Forms
An in depth look at all closing statements and forms, and how they work. All the fine print explained explicitly. You'll be in control of your closing!
Sample Worksheets
Sample worksheets included. Sample Forms such as Power of Attorney and Quitclaim Deed are included in a Media Center.
Appendices
A Glossary, State-by-State guide to closing practices, Closing Resources on the Web, Common Closing Problems, and Sample Contingency Clauses.
This revised and updated second edition is currently available in Kindle eBook format and Nook eBook format. You can still read this valuable resource even if you don't own a Kindle, iPad or other device. Amazon offers several Kindle free reading apps that allow you to download and read Kindle eBooks on your computer, tablet, or cell phone. Barnes & Noble aslo has Nook free reading apps.