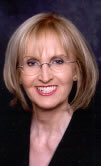 Sandy Gadow is a title and closing officer with more than 29 years of experience. She is a noted authority on escrow and closings and the author of the books The Complete Guide To Your Real Estate Closing, All About Escrow and Real Estate Closings, and the continuing education textbook The Nuts and Bolts of Escrow. Sandy has written "Close Your Deal", a column for the WSJ online, and has been a contributor to The Washington Post, The Los Angeles Times, and The San Diego Union as well as newspapers across the country. She was the business analyst for a national software company that created online management systems for escrow and title companies.
The Complete Guide To Your Real Estate Closing has sold over 550,000 copies and is in its 3rd Edition. The book is used in real estate continuing education courses and is widely recommended to buyers, sellers, investors, and real estate professionals. Sandy is a featured contributor to Nolo's Essential Guide to Buying Your First Home and she appeared on national television as a real estate and closing expert. Sandy is a licensed real estate sales associate, mortgage broker, and a certified Advanced Dispute Resolution (ADR) mediator. Sandy has helped thousands of people buy their homes and is often called on as a consultant for escrow and real estate practices.
"Whether your state uses escrow or traditional real estate closing settlement procedures, you'll benefit from reading Sandy Gadow's "The Complete Guide to Your Real Estate Closing." It is filled with insider secrets of an experienced professional real estate closer, which will benefit home buyers, sellers and realty agents. . . On my scale of 1 to 10, this excellent book rates a 10." – Robert Bruss, nationally syndicated real estate columnist
Professional Licenses
Real Estate Sales Associate
Mortgage Broker
Real Estate Dispute Resolution – Certified Mediator
Education:
University of California/Berkeley, California
Strauss Institute of Mediation, Pepperdine University, California
Advanced Dispute Resolution Goup, London, United Kingdom
Escrow Publishing Company produces books and information about real estate closings.
This site is designed to provide accurate and authoritative information in regard to the subject matter covered. This information is made available with the understanding that the publisher is not engaged in rendering legal or accounting service. If legal advice or other expert assistance is required, the services of a competent professional person should be sought.
Material included on these pages may not be duplicated, edited, manipulated, published, rented, sold, publicly displayed, used in litigation, or used for commercial or promotional purposes without the expressed, written consent of Escrow Publishing. For reprint rights or if you would like information about advertising your product or service on our pages please please contact us.